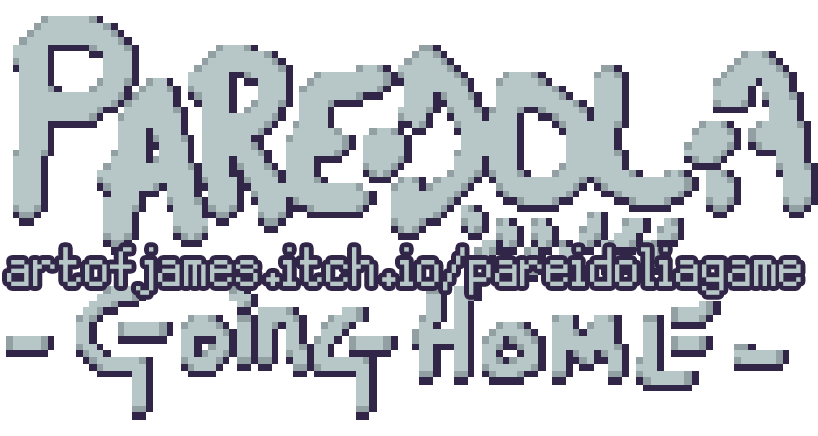 Pareidolia: Going Home
> [UPDATE]: Patch 0.2.1.0 is Live
---
> Transcribing log: DEV_01.29.23
/////////////
Hey there,
I just released a patch to Pareidolia's public alpha. Here are the highlights:
Uncollected tapes let off a glimmer and sparkle effect so they can be recognized as collectable even in full darkness
Some formatting changes to dialogue and log tapes
A new highlight color for text under special circumstances
Fixed East-2 not being assigned the same ambience track as East-1 and East-3
New gamepad button prompt sprites
Under-the-hood tidying up
R̷̢͑e̷̢̽m̶̪̚ǫ̵͊v̶̖̀e̸͎̽d̴͙͝ ̷̮̆t̵̀͜ḧ̶̠́e̵̤͑ ̷̮͑s̷̗̽o̸͘ͅù̸̻r̷̥͑c̵͎̎e̵̞͝ ̶̭͂ó̴̻f̷͓͝ ̵̜͒t̶͖̋h̷͎̋e̵̮̓ ̸̛̳ş̶̐ț̵͒r̵̟̐a̷̠̔ń̸̗g̴͚̃e̶̻̐ ̷̗̎s̶̫̈ơ̴͓u̷̻̒n̸͓͒d̸̖͌š̴̟ ̸̗̉ć̶͖o̶̜͛m̵̲̓i̸͉͛n̷̪̄g̴̻͆ ̵̘͠f̴̗̓r̸̝̓o̴̦̒m̵̬̍ ̸͈̾ț̵̿h̴̼̒e̸̱͗ ̶̨͂c̶̥̓ò̷̮r̸̳̿n̶͔̆e̶͉͠r̷̳̽ ̸̘̄o̶̠͗f̶̮̈́ ̵̲͝t̸͙̿h̶̻̄e̶̢̚ ̶͇̎r̴̮͑o̸̖̐o̵̫̿m̷̪̄
Here are some known issues that I am still investigating:
Zombies have a chance to clip into walls and snap to the top of a ledge making it seem like they jumped over a 2 meter wall
Currently the game does not support joystick player movement and menu navigation. This is something that I am currently integrating into the player input system and will be implemented in a future patch in this demo's lifetime.
Thank you everyone that has tried the game and left your feedback so far! It is amazing to be able to share this much of the project at once and I am excited for the future.
Be sure to follow the project's social as I update them with pictures and video of the project.
Thank you everyone for your continued interest!
/////////////
> Printing #SOCIALS.array
//Instagram: instagram.com/pareidoliagame
//Twitter: twitter.com/pareidoliagame
//YouTube: youtube.com/@pareidoliagame
//Mastodon: mastodon.gamedev.place/@artofjames
> Exiting
Get Pareidolia: Going Home